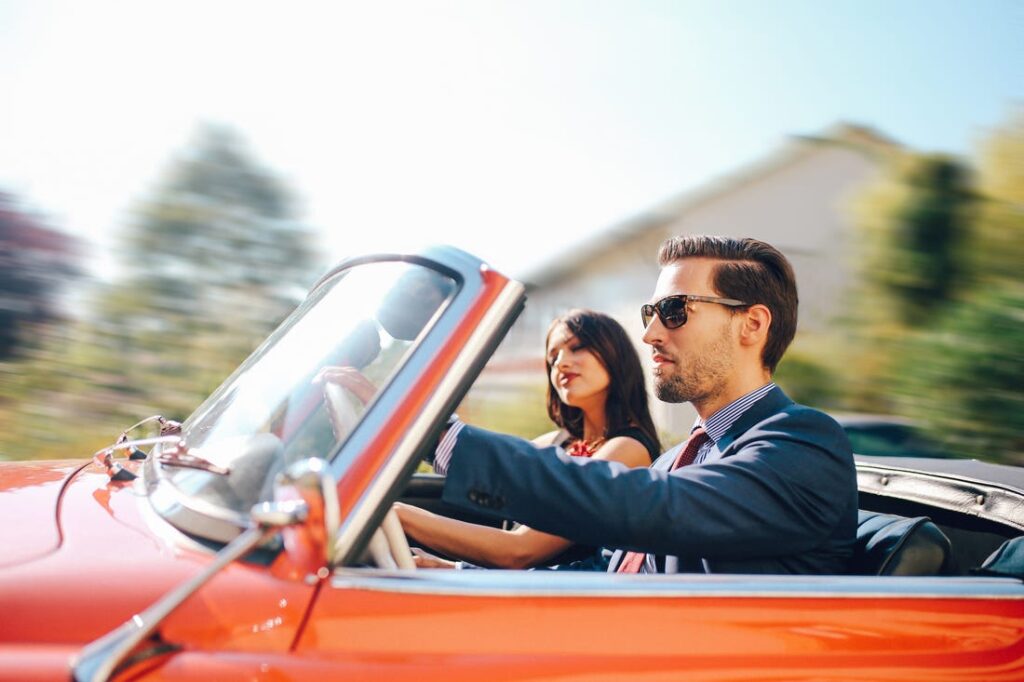 Are you trying to lower your auto insurance rates? Do you need car insurance under $50 a month? If this sounds like you, you can take steps to get quality coverage, along with premiums near $50 a month.  
Buying auto insurance can be a little overwhelming for many people, and most don't know what type of policy to get nor the limits they should buy. Let's dig into how to get cheap car insurance and the coverage levels that will adequately protect you. 
Be a Safe Driver
Being a safe driver is the number one tip to getting cheap car insurance under $50 a month. You need to be classified as a low-risk driver in the eyes of insurers to get the most affordable possible premiums.
Car insurance premiums are calculated on a driver's risk profile. One of the biggest factors that go into the rates a driver pays is the driver profile. If someone has a driving under the influence (DUI) conviction or reckless driving charges like racing, it will be almost impossible to get insured for under $50 a month.
Even having two or more tickets on your record for minor offenses can cause your premiums to go up 15% and more. Also, at-fault accidents can classify you as a risky driver and, you guessed it, cause your premiums to spike. If you get a ticket, try to go to traffic school and have it erased from your record. Not only will you save money on insurance, but traffic school will make you a better driver and possibly save your life.
How Auto Insurance Costs are Calculated
Understanding what goes into the premiums you are charged can be a little bit complicated, to say the least. There are so many things involved in calculating the car insurance rates you pay, and you have no control over many of these things. Here are just a few things that factor into your rates.
Your age and sex
Driving record
The vehicle you drive
Where you live
Your credit score
Number of miles driven each month
Whether you own or rent a home
Safety features on your vehicle
In general, the less of a risk you pose to an insurer, the lower your rates will be. The opposite, of course, is also true. The higher the risk you pose, like a new teenage driver with no experience, will correspond with higher rates.
Although you cannot control several things like your age and gender, there are many things you can take action on. This includes your credit score, the type of vehicle you drive, and, of course, your driving behavior. All of these will help you get lower premiums, and for select drivers, auto insurance rates near $50 a month.
Liability Car Insurance Under $50 a Month
If you drive a vehicle, you must, in the least, purchase state minimum liability insurance. This is a law in all but one state in the U.S. Each state has its unique automobile insurance laws, including the minimum amount of liability coverage a driver needs to purchase. Many consumers on a strict budget or have a used vehicle they rarely drive should consider liability-only coverage. It makes sense to buy state minimum liability car insurance in these situations, which can often be under $50 a month for good drivers.
These liability policies are often referred to as "barebones" insurance coverage. State minimum liability policies are the cheapest you can purchase, and good drivers over the age of 35 and under 70 can often qualify for the cheapest car insurance under $50 a month.
In fact, with a safe driving record, motorists who drive a safe used vehicle less than 800 miles per month can often get liability coverage for around $50 a month, and sometimes under $40 a month. The less risky your driving profile is, the cheaper your coverage will be.
Insurance rates vary quite a bit between each company, and this is why it's so important to get quotes from as many carriers as you can. This will significantly increase your chance of getting minimum liability auto insurance for around $50 a month. Check the cheapest rates in less than five minutes. To get started, just enter your zip code.
Can Teenagers Buy Car Insurance for Under $100 a month?
As you have probably noticed, teenagers are the riskiest and most accident-prone motorists of any age group. Teens are risky drivers for so many reasons, and they engage in reckless driving, speeding, and distracted driving far more than older motorists. In fact, one of the leading causes of teenage deaths is distracted cell phone use while operating a motor vehicle.
Many teens even text and comment on social media platforms like Twitter and Facebook while driving, which is extremely dangerous. This crazy, distracted driving makes them the riskiest risky drivers on the road. They have a higher probability of getting into an auto insurance accident and thus are charged much higher premiums.

Teens pay more for insurance coverage because they get into more wrecks than other drivers in every other age category. So, this brings up a question, is auto insurance under $100 a month even possible for these young motorists? As you might suspect, the answer is most likely not, but it might be possible under rare conditions and with the right policy. If you are a female teen driver, you have a greater chance of getting auto insurance under $100 a month than male drivers of the same age.
Tips that will Bring Down the Cost of Teen Car Insurance
A. Stay on your parents Auto Insurance policy
This is a crucial tip to differentiate a policy near $100 a month or a lot higher. A parent who adds their child to their policy can help their teen save hundreds of dollars per year than if they bought a separate policy.
The problem with this is that many parents can't afford high-cost teen car insurance, or they might want to teach their teenagers responsibility and require that they pay for their auto insurance. If this is the case, a teen has no choice but to get their policy under their own name, which can be very expensive and almost impossible to get for around $100 per month.
Teenagers can stay on their parent's policy for as long as they like, even into their 20s. Doing this could save thousands of dollars in the long run and make auto insurance affordable for teenage drivers.
B. Stay accident and ticket free
If a teenager has a clean driving record even for one year or less, it will increase their chances of getting cheaper rates.
C. Drive an old boring vehicle
Every teenager dreams of rolling around in a fancy sports car like a Corvette or Mustang, but that's financially impractical for most teens. If a teenager needs auto insurance coverage for less than $100 a month, then you're going to need to drive a boring old car. This includes vehicles there are more than eight years old and have four cylinders and four doors. Examples include an old Ford Taurus, Toyota Camry, or Subaru models.
D. Buy A liability-only policy
Even though it's risky buying liability-only coverage for your teenager, if you need the lowest rates under $100 a month, in this case, it could be the best option to look at. Over the long run, it will be wise to add extra protection like comprehensive with higher limits. If you need the cheapest teenager insurance coverage, it might be worth it to risk having a limited state minimum liability coverage.
E. Take a certified defensive driving class by an accredited teacher.
One of the best ways to get lower rates and educate yourself is by taking a defensive driving class. Not only will you learn so much about defensive driving techniques, but you could also lower your rates by as much as 10%. These helpful instructions could even one day save your life.
F. Good Student Discounts
Are you a student and have a grade point average of 3.0 or higher? If so, you can lower your car insurance by about 10%. Statistics show that high-achieving students take less risk while driving and get in far fewer accidents. Get good grades and lower your insurance premiums today. Set a higher deductible of $1,000 on your policy, which will help reduce your monthly payments to near $100.
G. Drive less than 800 miles per month
One of the most significant factors in the cost of insurance is the amount of mileage a driver accumulates each month? The more you drive, the more you are exposed to the possibility of getting involved in an accident and the higher your premiums. The converse is also true. The less you drive, the less you are likely to get involved in an accident. If you drive less than 800 miles a month, you can lower your teen car insurance by about 10% or, in some cases, even more.
H. Get Telematic Discounts
Consider getting covered with a carrier that offers a telematic discount. By installing a simple device in your vehicle, safe teen drivers can lower their rates between 10% to 30%. This device will track a teen's driving behavior and determine whether they are safe or not. Take advantage of all these tips, and you will have a good chance of getting teen car insurance for $100 a month, or even less.
Senior Citizen Car Insurance Under $50 a Month
Seniors between the ages of 50 and 65 pay some of the lowest rates of any drivers. This is because they are some of the safest drivers on the road. Senior drivers also drive less than motorists in other age groups, which lowers their risk of an accident.
Seniors with a clean driving record and a credit rating above 700 who drive less than 800 miles monthly can often get car insurance rates for about $50 per month. Many seniors drive used vehicles and only need minimum liability coverage. Some seniors can qualify for $50 a month car insurance with a low deposit for this type of coverage.
Tips for seniors include:
Raising their deductible to over $1,000 a month
Driving a vehicle that is worth less than $8,000
Get rid of needed collision and comprehensive coverage
Several companies have low rates for senior drivers. This includes:
The Hartford
Travelers
Farmers
State Farm
USAA Insurance
Allstate
Tips on Getting Car Insurance Under $50 a month
It might sound like common sense but have a clean driving record with no tickets, and no at-fault accidents will go a long way in lowering your auto insurance premiums. You can control this, so be a safe driver each time you get behind the wheel. Also, get your credit score above 700, and your rates should go down by 10% or more.
You also want to review at least ten auto insurance quotes from a variety of insurers. This includes regional and national carriers. Many of the best deals today are found online with direct providers like Progressive and Esurance. Many of these insurers have low down payment plans starting at $20 and rates for qualified drivers that start around $50 per month for liability-only coverage.
The Issue with Minimum Liability Auto Insurance Policies
While everyone wants auto Insurance as cheap as possible, a minimum liability policy might cost you more in the long run. Why might you ask? Because it often leads a policyholder woefully underinsured. For example, let's say you had a policy with $60,000 in liability coverage but caused over $250,000 in damages in an at-fault wreck.
This could result in you ending up being liable for the remaining damages your insurer did not payout. It's always important to look at insurance as covering your assets and protecting you adequately. Most drivers will need higher limit policies and collision and comprehensive insurance coverage.
100/300 Insurance Rules
Most insurance agents recommend the 100-300 rule. This is the amount of coverage recommended by the Insurance Information Institute or the IIS. This amount will provide you with $100,000 in bodily injury coverage for each person and $300,000 in coverage per accident.
In general, you want to get the most insurance protection you can afford. This means buying high limit policies that protect your assets. If you have half a million dollars in assets, you should consider getting a comprehensive car insurance policy with at least half a million dollars in limits. Safe drivers with a clean DMV record can often reach 100/300 coverage for about $100 a month, and this will give them both cheap insurance coverage and adequate protection.
Companies that Offer $50 a Month Car Insurance
Several insurers have rates as low as $50 a month for qualified drivers.
Esurance
21st Century
Progressive
USAA
State Farm
Erie
Takeaways on Getting Car Insurance Under $50 a Month
Getting auto insurance for $50 a month is difficult but possible if a driver meets the right risk profile and buys minimum levels of protection. To reduce your chances of getting $50 monthly car insurance, buy a more than eight-year-old vehicle. If it has a 4-cylinder engine and four doors, it will often reduce your rates quite a bit.
Make sure it's not on the top 10 most stolen vehicles list. Also, stay away from luxury vehicles. This includes used ones that are often very expensive to repair, like a Jaguar or Audi. Used automobiles just cost less to insure. Put additional security devices on your vehicle, like a LoJack system that will provide GPS monitoring if your car gets stolen. Doing this can save you about 2% to 5%, depending on the insurer.
Garage Your Vehicle at Night
Garaging your vehicle can get you a small discount that can push you towards $50 a month of car insurance. Even parking it in a covered space could get you a discount.
Get Every Discount you Can
Discounts can save you hundreds per year off your auto insurance. Popular discounts include:
Active Military and Veterans Discount
Teachers Discount
Safe Drivers Discount
Good Student Discount (GPA of 3.0 or higher)
Senior Citizen Discount
Maintain Continuous Coverage
Did you know canceling your insurance policy and going an extended period with no auto insurance can increase your rates? Always secure a new policy before canceling your older policy and lower the premiums you pay.
Consider a Telematic Device
For drivers of any age, a telematics device can reduce their rates by up to 30%. While it may feel a little bit intrusive, it can be well worth it if you need to save the most money on your auto insurance coverage. Many drivers with a telematics device installed have reduced their car insurance rates to $50 a month. For many drivers, it's worth it to have their driving monitored.
Drive Less than 800 Miles per Month
Whether you're a young driver under 25 or a senior driver over 60, the less you drive, the less you will pay for insurance coverage. It's really just that simple. If you need auto insurance for $50 a month, then drive less than 800 miles monthly, and driving under 800 miles a month can save you 20% or more.
Shop for Car Insurance Under $50 a Month Online
Comparing auto insurance quotes is fast and easy, thanks to the internet. You can even use your smartphone to compare quotes. In about 5 minutes, you can comparison shop ten quotes from leading insurance carriers.
Shopping direct auto insurance rates online can help you find policies under $50 a month and save you a lot of time. Get started today by entering your zip code and compare auto insurance plans under $100 a month. Get the coverage you need today at the best rates possible.