First month free car insurance is a type of policy that allows drivers to get insured by only paying an upfront deposit for the first month. Your premium will then need to be paid in equal installment payments for the remaining months of the policy. This type of insurance policy itself is not any different, just the installment payment terms. Insurers offer the first month free car insurance as an incentive to attract new customers by making the first month of coverage very inexpensive.
First Month Free Car Insurance can help drivers on a tight budget get insured with a minimal deposit amount. For example, a driver selects liability insurance that is $900 per year. The required deposit is only $50. In this case, the driver would be covered with the first month of auto insurance for free and only need to pay the small deposit amount of $50. Then the next 11 months, they would need to make 11 installment payments of $81.82.
You don't get cheaper car insurance coverage with the first month free policy. You do delay the monthly installment payments, which can help those motorists in a temporary cash crunch.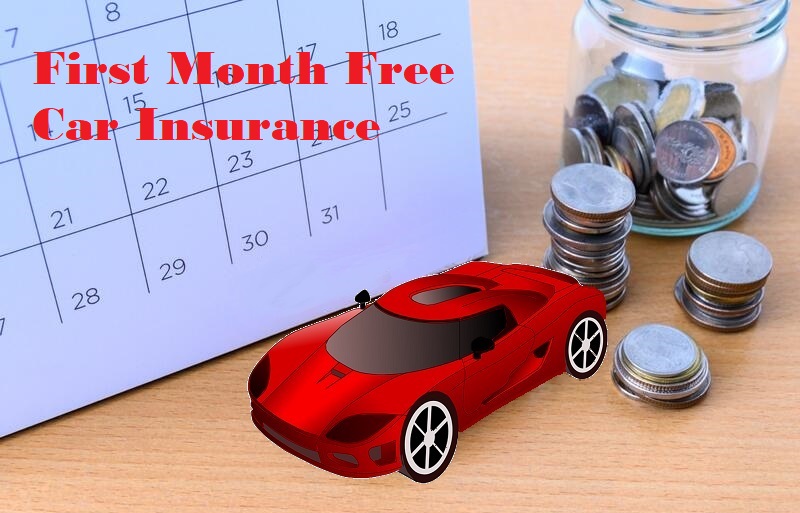 What insurers Offer First Month Free Auto Insurance?
Car insurance companies offer these types of deals or an affordable alternative that will allow you to get your car legally on the road by only making a small deposit payment.
It's a common problem for many people struggling to insure their vehicles. You need no money down car insurance, but you're absolutely broke. You have a job where you can earn money to pay your premium, but you've also got to have your vehicle to get there. So you don't want to get caught driving without any coverage because that will only create more financial problems. So, what do you do?
Apply for first-month free auto insurance and get covered for a small out-of-pocket cost to you. While not every carrier offers these discounted deals, some companies do.
Progressive
Esurance
Kemper Direct
Good to Go Insurance
Nationwide
Apply online and check what insurers offer the lowest down payment for the coverage you need. Enter your zip code and comparison shop ten rate quotes in minutes.
Can You Really Get First Month Free Car Insurance?
Everyone has heard the old saying, "if it sounds too good to be true, it probably is." This may or may not be the case when it comes to no down payment car insurance companies. Instead, it depends on the insurance company you choose and what special discounts they offer. There are also a few factors the insurance company will consider before making you an offer, such as:
Your driving history
Your credit history
The type of vehicle you want to insure
The age and overall value of the car you want to insure
What type of coverage do you need (collision and comprehensive or basic liability)
Any extra features you may want on your policy, such as roadside assistance or rental car reimbursement
Discounted Policies that Can Save You Big Money
In the best-case scenario, with a perfect driving record and credit score, you will qualify to pay absolutely nothing for your first month's car insurance. This is usually known as a discounted policy. It's typically offered to brand new customers looking for car insurance with 0 down payment available.
A policy with one-month free coverage is just like any other. You get the coverage you need, but you don't pay until the second month. However, you may not be saving as much as you think.
Yes, a few car insurance companies offer car insurance with zero down with no strings attached, but they are few and far between. Instead, what most companies do is fiddle with the numbers a little bit.
Here's an example: If your policy costs $600, your payments will break down to $100 a month car insurance for six months. If you get your first month free, they will likely bump up your monthly payment to $120 a month. So, you are paying for the policy in full, yet you don't have to make a payment in the first month. 
As you can see, they are just redistributing the total amount of the policy over the remaining month's payments. In short, you will still pay the full $600 premium, but you'll do it on a time schedule that fits your budget better.
Benefits of First Month Free Car Insurance
If you qualify for a month's worth of car insurance 0 down payment, there's no doubt you are getting a great deal. If you can't quite make the first month's payment and you can put it off for another month, you are benefiting as well. Of course, in the second case, you aren't actually saving any money. So, you might want to consider some other options that will still allow you to save money on the coverage you need.
Is it Smart to Pay Your Insurance Premium in Full?
While this may not be an option now, you'll want to know that paying your premium in one lump sum is one of the best and easiest ways to save money with your low monthly car insurance. Almost all insurance companies, including Geico, Progressive, State Farm, Allstate, and Farmers, offer a "paid in full discount." On average, you can expect to save somewhere between 5 and 10% of your premium. Even better, you won't have to worry about remembering to make your monthly payments or being hit with a late fee.
Look for Additional Discounts that can Save You More
Speaking of discounts, this is something you'll want to look into, especially if you are a little short on cash and need your first month's free car insurance policy activated as soon as possible. You may be familiar with some of the more common discounts, such as having multiple policies with the same insurance company, but there are probably quite a few others you have never heard of. Here are a few to look into:
1. Good driver
If you have a clean driving record and haven't had a chargeable accident (one that cost your insurer money) in at least 3-5 years, you may be eligible for a "good driver" discount… You may save as much as 10%.
2. Affiliation or affinity discount:
There are multiple ways you may qualify for an affiliation discount. It could be through your employer, school, team, or some other membership. You probably won't know if you don't ask, so make sure to find out.
3. Anti-lock brakes:
If your car is equipped with anti-lock brakes, you may see your premium decrease by as much as 5%.
4. Anti-theft:
Driving a car equipped with an alarm or tracking system or a "kill-switch" may save you anywhere from 3-10%. (Some insurers may require that your anti-theft system be factory installed.
5. Defensive driver course:
Taking (and passing) an approved defensive driver class may reduce your premium by 5% or more.
6. Bundled services:
Companies will usually reciprocate your loyalty with a discount if you have multiple policies with the same insurer, such as car, home, and health.
7. Good student:
If you are under 25 and a student with a GPA of at least 3.0, insurance companies will often reward you with a discount of about 5% or more.
8. Low-income:
If you're a resident of New Jersey, Hawaii, or California and meet specific eligibility requirements, you may qualify for state-subsidized auto insurance.
Getting First Month Free Car Insurance Online
There's no denying that car insurance can be expensive, but that doesn't mean you can't find some great deals that will drastically reduce your payment. Whether you qualify for First Month Free Car Insurance depends on many factors, and you might not be eligible.
If you can afford to pay your full premium in a lump sum or qualify for other discounts, you can find cheap car insurance under $50 a month that can save you hundreds. It's going to take a little bit of work on your part to find the best deals and the insurers that offer low down payment policies with the first month's payment deferred.
Be sure to get multiple quotes and closely compare first month free car insurance policies in minutes. Start your quote now by entering your zip code and comparing the best rates where you live.